Used Rails R50 R65 5 200,000 mt/m CIF
Used Rails R50 R65 5 200,000 mt/m CIF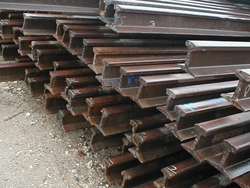 COMMODITY: Used Rails of ISRI Grade R50 – R65
QUANTITY: 200,000+ MT/Month
PRICE: US$260 neg.* per metric ton (CIF AWSP) *Depending on Quantity, Origin and Destination
ORIGIN: Europe, Africa, Russia...
TERMS OF SUPPLY: CIF delivered to AWSP to be specified by the buyer.
PAYMENT: Irrevocable, DLC 100% payable at sight
INSPECTION: Most Sellers allow site visit according to Terms specified in contract.SGS inspection at the port of Loading at Seller's cost. Inspection can be carried out at the Discharge Port at the cost of the buyer.
SPECIFICATIONS
The SELLER guarantees to the BUYER that the GOODS delivered will correspond to the characteristics shown below:
SPECIFICATION: CHEMICAL DRY BASIC
Carbon – 0.54 to 0.82%
Phosphorus – 0.035% max
Manganese – 0.60 to 1.05%
As. – 0.01 max of Mass share
Silicone – 0.18 to 0.40%
Sulphur – 0.035% max
Norms – R-50 GOST-7173-75 / R-65 GOST- 8165-75
The scrap consists of R-50 (51.67 KG/m), R-65 (64.72KG/m)
Used Rails shall be considered free of alloys.
PACKING:
R50 and R65 –unpacked – BULK
The rails R50 and R65 will be Loaded on vessel in bundles of 5 mt
LOOSE BULK in 1.5 Mtr OR 6-12 Mtrs. Length required to be specified by the buyer
The shipment quantity ratio will be R65 (50%) and R50 (50%), R65 and R50 shall be placed separately during loading on board.
Safety: the product will exclude any pressurized gas, fuel or other sealed containers, explosives, bombs and inflammable material.

Radioactive material : the product will exclude any bearing sealed radioactive material, chemical and medical radiation devices, steel construction scrap which is contaminated with radioactive material, and also must exclude scrap that has radioactive material spread along its surface.

Cleanliness : the product will exclude compressed or free tin cans, nail, bundle, steel rope and galvanized, tinned, enameled, chromium, copper, lead coated materials, non-ferrous metals, foreign material and be free from dirt, oil, excessive rust, grease, paint pitch.

Residual and other alloys : the product shall not contain alloyed steel demolished vehicle parts and pig iron.
Tags:
Used Rails R50 R65 5 200,000 mt/m CIF
Views: 97 Added: 21-05-2019 Updated: 21-05-2019
---
Country: India
City: Chennai
Zip: 600041
Company:
Address:
Contact person:
Phone:
Fax:
Mobile:
Please,
login
or get
registered
to contact
the Author via email or personal message!
Related to Used Rails R50 R65 5 200,000 mt/m CIF