55-60% Antimony Mineral Ore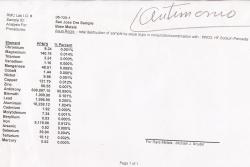 -Commodity: 55 - 60% Antimony Mineral Ore. (Guarantee of 55% minimum, baseQuality 55%). Immediate availability. No past performance will beprovided at any time. Upon buyer' s request, product could beconcentrated to offer a higher %pb.
-Quantity: 5,000 MT x 12 (Potential renewal of an additional 12 months).Trial shipment as per mutual agreement between END BUYER & ENDSELLER.
-Granulometry: 3/8" to 0 (fines).
-Loadport: San Luis Potosí, México.
-Presentation:In bulk, and / or in jumbo bags of 1.000 kilograms in TEU
-Price: CIF ASWP as per the following table, based in SGM Index (Serviciosgeologicos mexicanos)
Price as of August 22nd, 2.015, which may vary always depending onindexes above named:50 US$ x average point of antimony.-AVERAGE SPECIFICATION OF THE ANTIMONY:ElementAU GRS X TON 0,36AG KG X TON 0,065PB % 0,09CU % 0,07ZN % 0,42SB % 57SN % 0,10FE % 0,10
- PAYMENT will be made via DLC: NON NEGOTIABLE 100% of payment instrument willbe released at load port AFTER quality and quantity of product has been certified bySGS, and master of vessel signs and seals bill of ladings.
- 2%PBG (PERFORMANCE BOND)To be delivered max. 3 days after bank of End seller receives DLC from bank of endbuyer.
Tags:
55-60% Antimony Mineral Ore
Views: 468 Added: 06-09-2015 Updated: 06-09-2015
---
Country: Paraguay
City: ASUNCION
Zip: 1354
Company:
Address:
Contact person:
Phone:
Fax:
Mobile:
Please,
login
or get
registered
to contact
the Author via email or personal message!
Related to 55-60% Antimony Mineral Ore