Home
>
Activities' results and economic forecasts for Schnitzer Steel Industries Inc.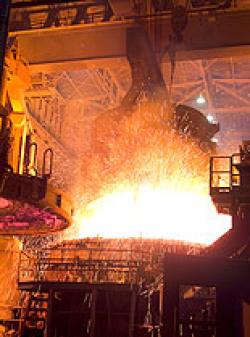 The fiscal first quarter was marked by a loss of $7.8 million for Schnitzer Steel Industries Inc., a global leader in the metal recycling industry. But this is by far less in comparison to $34.4 million for the same time last year. Therewith, revenue for the quarter have decreased by 17 percent and made up $394.3 million.
The experts reported an improvement in the results compared to the last years, so the quarter can be with certainty considered as profitable. The demand across the global market of recycling industry is becoming stronger and wider.
It is seen a considerable improvement in such directions as metals recycling and auto parts. Investing into these businesses steadily moves ahead. It is only enough to say that the company's metals recycling business have brought operating income of $16 million for the quarter, compared with a loss in the prior year.
During the whole quarter was observed significant price volatility. Strengthening of prices took place only at the end of November. The fact that purchases of raw materials were at comparable levels allowed Schnitzer Steel Industries to stimulate conditions for the growth of sales volumes and prices in the coming quarter. Though sales volumes declined and were lower compared with the fourth quarter.
As concerns ferrous and nonferrous scrap prices the situation has took the following shape: steady rise during the quarter. However, a sharp drop of prices took place in late October and early November, coming increase brought strengthening of the demand, especially in the export markets.
According to the company's estimates, ferrous sales volumes should take a turn for the better due to improving market activity. The increase is going to constitute 40 to 50 percent over the levels in the first quarter. These volumes should come from higher export sales. As opposed to ferrous sales, nonferrous sales volumes should remain steady.
Insignificant rise is also supposed for ferrous net selling prices in the second quarter.
Improvement of nonferrous markets, which is seen in recent weeks, is expected to support higher prices for nonferrous metals compared with the first quarter.
Normal seasonal declines, which are often faced during winter months, will impact the flow of raw materials. Such impact reflects in increase of raw material purchase costs. As a result, purchase cost increases are to be more than compensated.
As for auto parts business, it should be noted that operating income from continuing operations has undergone fourth consecutive sequential increase.
High expectations are laid to the acquisitions in the Pacific Northwest and the Dallas-Fort Worth, Tex. areas. This will assist in the company's metals recycling business development.
Parts sales and core and scrap prices increased at a greater rate than the cost of scrapped vehicles. Such improvement of sales led to the growth of operating margins for the auto parts business.
Now it is reported to achieve a record operating income in the first quarter. The following factors have helped to reach such result: improvements in commodity prices, parts sales, intense purchases of scrapped vehicles from the program of old cars utilization. This program foresees a compensation payment for the car utilization and usually it is called the Cash-for-Clunkers program.
Unfortunately, the same can't be observed in the Steel Manufacturing Business. Weak demand for finished steel products in West Coast markets does not allow having strong positions.
The company's management is obliged to admit that first quarter sales volumes are followed by a steady decline. Higher prices for raw materials create considerable difficulties and make the markets weaker. So, such reduced production volumes brought negative operating margins. In the view of current situation, the company centers hope on its reputation for high-quality finished steel products. They believe that the reputation will contribute when demand increases from government-funded infrastructure spending and a general enhancement of economic activity.
Hereby, declination of the average net sales prices for finished steel has led to 30 percent decline in revenues in comparison to last year's first quarter. This means, that prices haven't been changed much.
Moreover, the experts have projected a continuation of a decline in finished steel sales volumes due to the weak demand. The volumes are going to lower at 20 percent from the volumes in the first quarter of 2010.
A boost of costs for raw materials will result in rise of average net selling prices, however the demand won*t see any improvement in the West Coast markets.
In reference to margins level, it can be stated that second quarter margins are expected to improve in regard to margins of the first quarter, but still it will remain negative.
Any copying and distributing the material of Global Metal Trade Portal
without active link is stricly prohibited !
Link to this news:
Activities' results and economic forecasts for Schnitzer Steel Industries Inc.
Copy & Paste This Code to your website:
---
Views: 4930 Added: 04-02-2010 Updated: 04-02-2010
Average Visitor Rating:
0.00 (out of 5)
Number of Ratings: 0 Votes
Activities' results and economic forecasts for Schnitzer Steel Industries Inc.