Aluminium Titanium Boron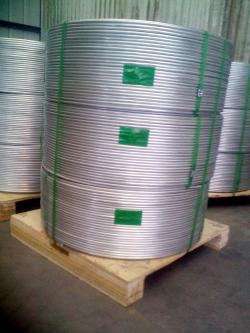 Application and characteristics of AlTiB
AlTiB aluminum titanium boron grain refiner, additive when melting, simple to use and no corrosive effect, little application amount, high purity, great grain refining effect, improvement surface quality, reduction pinhole number and raising elongation. A necessary modification material used in producing the aluminum alloy wheel hub of automobile and motorcycle and aluminum plate,sheet,foil and the high performance aluminum casting of aeronautical and astronautical,military enterprises.
Instructions on application of AlTiB
adding temperature:680-720℃
Application amount:determinated by actual experiments and dosing calculation
Adding method:in-line adding
Shape and Specification AlTiB
Rod: Diameter 9.5mm-10.0mm,legth 500-1000mm,1mt per pallet or wooden crate
Coil: Diameter 9.5-10mm,180-220kg per roll,4 rolls per pallet.
Special shape, specification and package as per customers' requirements.
Tags:
Aluminium Titanium Boron
Views: 364 Added: 27-09-2016 Updated: 27-09-2016
---
Country: China
City: Qinhuangdao
Zip: 066004
Company:
Address:
Contact person:
Phone:
Fax:
Mobile:
Please,
login
or get
registered
to contact
the Author via email or personal message!
Related to Aluminium Titanium Boron