DI pipe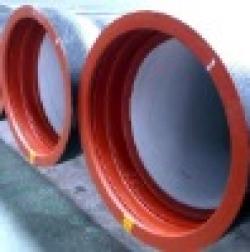 Place of Origin: Liaoning China (Mainland) Length: 6M or 5. 7M Standard: ISO2531/ BSEN545/ BS4772/ DIN
Material: Ductile Iron Type: Ductile Iron Pipes Material: ductile iron
Specification: DN80 mm - DN1200 mm
1. ISO2531/ BSEN545/ BS4772/ DIN, T- Type, K9
2. DN80 mm ~DN1200 mm
3. cement lining inside and zinc and bitumen coating outside
Ductile iron pipes: 1. Standard: ISO2531: 1998/ BSEN545/ BS4772/ DIN2. Socket and spigot ends with flexible push on joints, Class K93. internal lining of cement mortar in accordance with ISO 4179: 1985, and external coating of zinc in accordance with ISO 8179: 1995 with a finishing layer of bituminous coating. 4. Effective length 6 meters or 5. 7 meters for container loading. 5. Tensile strenth?420 Elongation?10% Hardness?230HB6. Passing ISO 9001: 2000, SGS & BV etc. certificates. Tags:
DI pipe
Views: 348 Added: 22-12-2009 Updated: 27-08-2017
---
Country: China (Mainland)
City: Dalian
Zip: 116031
Company:
Address:
Contact person:
Phone:
Fax:
Mobile:
Please,
login
or get
registered
to contact
the Author via email or personal message!
Related to DI pipe