Finest nickel wire 0.025 mm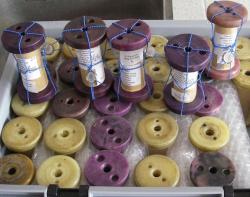 I would like to offer you high-quality ultrathin Nickel wire NP-1 and NP-2. The wire is manufactured on the high precision bench and does not have grease marks, oxidation tints and chalking. The wire surface is clean and does not have hollows, flaws, scratches and meets all international quality standards.
Technical reference: DKRNT-0.025-KT-NP2, DKRNT-0.025-KT-NP1.
Wire standard: GOST 2179-75 ????Wire from nickel and siliceous nickel. Technical terms????.
Diameter: 0.025 mm.
Purity: NP-2 99.84 ????? 99.89 % NP-1 99.97 ????? 99.98%
Country of origin: Russia.
Specification: Nickel wire is nontoxic, fire-proof, explosion-proof, has high strength, plasticity and corrosion stability. Also it is well handled in both hot and cold conditions and does not contain precious metals.

Utilization: electrical engineering, navigation, LED lamps, GPS and GPRS systems production, nanotechnologies, space industry, maintenance of nuclear power plants, microelectronics and high-tech industry, vacuum dusting of nickel coverings, manufacturing of cathodes and grids of radio tubes and microwave devices, medical equipment.
Also nickel wire is used as a financial instrument (as collateral with the bank to release credit facilities).
Monthly production capacity: NP-2 - 25 kg, NP-1 - 10 kg.
Minimum order quantity: NP-2 - 4 kg, NP-1 - 1 kg.
Packaging details: the wire is spooled to plastic coils and packed in plastic containers.
Certification: manufacturer's certificate of quality, optional - IGAS research (Germany), GIREDMET Testing Analytical Centre (Russia).
Delivery/payment terms and price are negotiable to meet all your requirements.
Tags:
Finest nickel wire 0.025 mm
Views: 5438 Added: 02-08-2011 Updated: 25-12-2017
---
Country: Ukraine
City: KIev
Zip: 04071
Company:
Address:
Contact person:
Phone:
Fax:
Mobile:
Please,
login
or get
registered
to contact
the Author via email or personal message!
Related to Finest nickel wire 0.025 mm