HMS 1/2 and used rails scraps for sale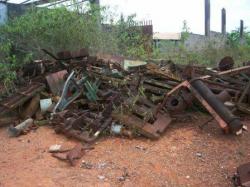 We are the direct owner of HMS 1/2 and used rails ways Scraps yards.

our shipments are base on CIF OR FOB.

we do both containerized and break bulk export. when it come to price,

our pricies are negotiable.our current cif rate is 215usd per mt Any

safe world port for HMS 1/2.and 265usd per mt CIF any safe world port

for used rails.

We have Current stocks ready for exportation,. and buyers are allow to

visit our yard for inspect before shipment.
Tags:
HMS 1/2 and used rails scraps for sale
Views: 1546 Added: 02.01.2013 Updated: 02.01.2013
---
Country: Liberia
City: monrovia
Zip: 1000
Company Name:
Address:
Contact person:
Phone:
Phone2:
Fax:
E-mail:
Please,
login
or get
registered
to contact
the Author via email or personal message!
Related to HMS 1/2 and used rails scraps for sale