Home
>
Metal trading in Ukraine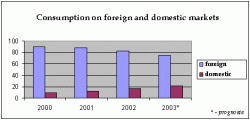 A collapse of the USSR forced Ukraine (as well as other CIS countries) to search for new ways and schemes of trading, in the view of a collapse of the State Planning System. And the metal trade was not exception. The more so, that both manufacturers and buyers now became free. This problem gave birth to some other questions: how determine assortments? How to monitor and predict price dynamics? How to arrange contracting activities in the most effective and juridically proved way?
In addition, naturally enough, the Ukrainian market has its own national features. It is not a secret that the metal industry, Number One in the country, is fully export-oriented and builds up to 40% of the state budget. This one-sided orientation is partially explained by an experiment in the country's economy, which involved debt reconstruction for its participants and allowed a number of tax privileges. Having obtained the privileges the Ukrainian metal companies immediately found themselves in a better position on their export outlets and rushed to overseas markets, abandoning their home one. At first, in this "export fever", nobody though of future problems with getting back VAT, for example. In reality, export failed to be as astronomically profitable, as it had been expected. But the knowing of all negative aspects came up only later. And, while the experiment was in full swing, the domestic market got just "poor drops" of a wide export stream.
So, the experiment with privileges failed to bring desired results and was abandoned January 1, 2003. In practice it should have meant that the industry would, finally, start treating the home market not as a "poor cousin" to its export "brother". Let's see what figures show. Within 8 months of 2003 industrial production grew 14,6%, including metallurgy – 13%. And, again, the main factor behind the growth was rising export prices, and the domestic consumption was still under its shadow, though one cannot reject its gradual growth (Diagram 1; S).
Any copying and distributing the material of Global Metal Trade Portal
without active link is stricly prohibited !
Link to this news:
Metal trading in Ukraine
Copy & Paste This Code to your website:
---
Views: 13356 Added: 20-09-2009 Updated: 20-09-2009
Average Visitor Rating:
4.00 (out of 5)
Number of Ratings: 1 Votes
Metal trading in Ukraine