Home
>
Steel Dynamics announces its expectations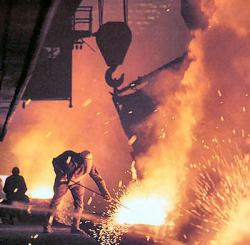 The nation's fifth-largest producer of carbon steel products - Steel Dynamics Inc. - has promulgated it's expectations for the following periods.
In the fourth quarter of 2008 the company has lost 45 cents per share due to the weak demand for steel and the necessity to decrease steel prices. The overall loss made $83 million.
But now Steel Dynamics expects to earn between 10 and 20 cents per share in the fourth quarter of 2009, although Zacks Consensus Estimate has a firm level at 23 cents. For all that it should be noted that in the third quarter of 2009 Steel Dynamics has left Zacks Consensus Estimate behind and obtained net income of 30 cents per diluted share. As soon as flat-rolled segment has enlarged the production and increased shipping volumes and metals recycling sector has strengthened its performance, the cost was reduced. All these improvements have brought to the above-mentioned advance.
Close investigation of the company's total sales for the third quarter of 2009 have revealed that it's net sales amounted to $555 million. Here different trends in ferrous and non-ferrous scrap shipments should be mentioned: ferrous scrap shipments lowered to 1.3 million tons 54% year over year, while non-ferrous scrap shipments raised 28% to 217 million pounds sequentially.
At the same time, Indiana-based Steel Dynamics, named Fort Wayne, passed an opinion that the company can not earn 30 cents per share, as it was in the third quarter of 2009, due to a slippage in some steel prices, shipments and profit margins at its metals recycling operations.
Although Steel Dynamics affirms in strong demand for flat-rolled and bar steel and revised pricing for it, the company is still uncertain it can keep the situation stable.
Any copying and distributing the material of Global Metal Trade Portal
without active link is stricly prohibited !
Link to this news:
Steel Dynamics announces its expectations
Copy & Paste This Code to your website:
---
Views: 5023 Added: 05-03-2010 Updated: 05-03-2010
Average Visitor Rating:
0.00 (out of 5)
Number of Ratings: 0 Votes
Steel Dynamics announces its expectations