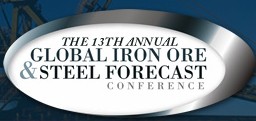 The Global Iron Ore & Steel Forecast Conference 2010
Iron ore is now the largest commodity market after oil, and analysts are expecting iron ore prices to increase by at least 40%, with some ever predict 50% this year.
2010 looks set to be an interesting year on the iron ore calendar. With pricing, relationships and mergers at the forefront of everyones minds.
Relationship establishing and managing is becoming increasing important as previous negotiation channels change.
The annual iron ore tussle is well underway and is set for another tumultuous ride this year. Will 2010 yield a benchmark price settlement or will benchmark system be abandoned?
Challenges adapting to a global commodity market has seen an increase in uncertain and vastly different interests by Chinese steel producers and in turn the adherence to the benchmark system.
Tags:
The Global Iron Ore & Steel Forecast Conference 2010
Views: 7978 Added: 06.02.2010 Updated: 06.02.2010
---
Country: Australia
City: Perth
Address: Perth
Contact person: Deen Haniff
Phone: (08) 9224 7777
Fax: (08) 9224 7788
The Global Iron Ore & Steel Forecast Conference 2010 Australia