Home
>
The significance of scrap markets in metal producing sector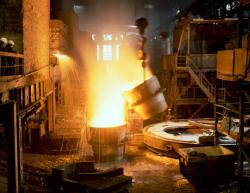 As far as scrap markets plays a significant role in steel making raw material sectors, making considerable part in price formation, it requires much closer attention and detailed examination of it's impact.
It is obviously seen that a fairly large number of trends should be noted in terms of scrap market investigation. The following ones are the most significant:
First of all, it is necessary to mention the fact that the source of 80% of scrap is an old household goods and cars. And since the world was suffering from overall recession, this source was also weakened. As an example, an experience of the world's largest metals and electronics recycler Sims Metal Management, who undergone 79m ton decline in scrap consumption this year, can be noticed.
The next factor is a dynamic introduction of electric arc furnace technology in new mills. This production requires steel scrap and in those countries, which take the lead over the US, scrap demand is also headlong.
The attractiveness of the US scrap exports in overseas markets also depends on a state of American currency. So, currencies of the two countries, which responsible for a large percentage of iron ore, Australia and Brazil appeared to be much stronger than the US dollar, what brought to the strengthening of interest to the product substitution and scrap supply reducing accordingly.
A strong dependence between scrap prices and manufacturing demand was traced by the experts. They have revealed that the increase of heavy melt steel scrap prices always reflected in increase of manufacturing demand.
And despite a numerous leaps and falls in scrap steel prices, the trading range is being the same during the last year. However, the impact of any changes in availability on the cost can't be denied.
Any copying and distributing the material of Global Metal Trade Portal
without active link is stricly prohibited !
Link to this news:
The significance of scrap markets in metal producing sector
Copy & Paste This Code to your website:
---
Views: 4871 Added: 10-03-2010 Updated: 10-03-2010
Average Visitor Rating:
0.00 (out of 5)
Number of Ratings: 0 Votes
The significance of scrap markets in metal producing sector