Home
>
Turkey is seen as a fifth largest steel manufacturer in Europe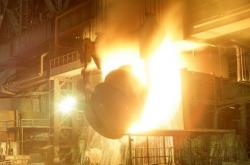 There are 55 countries in the world that produce steel. The greatest manufacturers in Europe are Russia, Germany, Ukraine, Italy. The next country in this list is Turkey whose estimated total production amounts to 26 million tons a year. And the production is expected to undergo a stable increase from 35 million tons in 2009 to 42 million tons by 2010. Hereby, Turkey with certainty can be called one of the major steel producers and it possesses the fifth place among largest producers in Europe and 11th – in the world.
At present, three integrated plants (Erdemir, Kardemir, Isdemir) and 16 electrical arc furnaces operate in steel production sector of Turkey. Most of producers in the country are sub-scale rolling mills supplying low-value-added, often very substandard, long products to the construction industry. The exception is made by one cold rolling company, producing flat products, and a few companies, producing specialized products such as spring steel.
The industry produces most types of steel. But there is an obvious shift in production towards lower-value long products. The main application area of such products is the construction industry. Flat products, in turn, required for domestic needs, are mostly obtained through imports. To balance the production, Erdemir plant, only flat producer with 3 million tons of crude steel capacity, have decided to transform its Isdemir plant into flat production by means of several modernization measures and investments worth $1.9 billion. Such activities are purposed to increase production volumes (in 2009 it was 10 million tons) and streamline the quantities of flat and long products. Moreover, to solve the problem of deficit in flat products the Arcelor-Borcelik partnership is considering about investing into it development.
It should be noted another area, where Turkey has also become a major producer. It is a production of welded steel pipes. About 24 companies are enabled in this area. However, seamless steel pipes are produced by the only company – the Machinery and Chemical Industries Foundation (MKEK), who is a manufacturer of light arms and munitions.
Except the above-mentioned productions, Turkey has lots of foundries, producing gray, malleable, spheroid iron and steel castings. These foundries (about 1,693) form 1.5 percent of world's castings production and manufacture every kind of alloyed and unalloyed castings. The main specialization is assigned to the production of cast parts for the automotive industry, earth moving machines, and the cement industry, but such products as pumps and valves, steel industry, tractors and agricultural machinery and other manufacturing industries as well as pipe fittings and central heating radiators are also the part of their activities.
Being such a major steel producer, Turkey has become an authoritative exporter of steel to the United States. Examining the figures, it turns out that the exports to the US market have considerably grown. For instance, the exports had a 32% jump from the $699 million in 2005 to $925 million in 2006. Nowadays, Turkey is not intended to intensify significantly the volumes, because it already exports 54% of its products to the EU. The entrance into the European Union and economic development at home are the subject of more close attention in the country.
Nowadays, there are two concerns in relationship with the US which should be solved by Turkey.
The first one is associated with the accusation of Turkish domestic steelmakers in dumping of their products in the US at below market prices. There are two more countries (China and Germany) which were accused in the same actions in 2005. Since their imports doubled over a two-year period, it provoked several domestic producers to file antidumping petitions. However, the domestic industry found no support by the U.S. International Trade Commission. Thereby, a concern of more careful attention to such filing cases against foreign companies is of great importance for Turkey.
And the second one is to work up markets in the Middle East and Northern Africa, such as Dubai, Kuwait, Qatar, Egypt, Algiers and Morocco. Geographical location of the country allows taking the advantage of the growth.
Any copying and distributing the material of Global Metal Trade Portal
without active link is stricly prohibited !
Link to this news:
Turkey is seen as a fifth largest steel manufacturer in Europe
Copy & Paste This Code to your website:
---
Views: 7442 Added: 23-03-2010 Updated: 23-03-2010
Average Visitor Rating:
0.00 (out of 5)
Number of Ratings: 0 Votes
Turkey is seen as a fifth largest steel manufacturer in Europe