Hematite ore weekly shipment FOB Durban Port, South Africa
Hematite ore weekly shipment FOB Durban Port, South Africa

Hematite ore for sale from South Africa, FOB Durban Port, South Africa. 50,000 mt to 60,000mt lots per week on Handymax Vessels.
Only Serious buyers to enquire,
See attachments for analysis.
Tags:
Hematite ore weekly shipment FOB Durban Port, South Africa
Views: 107 Added: 28-05-2019 Updated: 17-10-2019
---
Country: South Africa
City: Springs
Company:
Address:
Contact person:
Phone:
Fax:
Mobile:
Please,
login
or get
registered
to contact
the Author via email or personal message!
Related to Hematite ore weekly shipment FOB Durban Port, South Africa
Additional photos
for
Hematite ore weekly shipment FOB Durban Port, South Africa


Sizing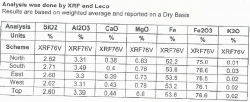 Analysis 1


Analysis 2