Iron ore concentrate 150,000 t
Iron ore concentrate 150,000 t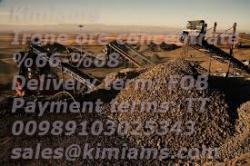 Sarab ore mine had registered and started its activity which is located in Bijar, Kurdistan province.
Sarab ore mine is working with 150.000 ton nominal capacity for graining ore by medium carat about 54-57% fee per a year and by making jobs for more than 180 person directly and about 350 person are working in an indirect way right now.
Though, existing problems regarding selling ore such as impressive decrease in selling global price, increasing of fixed price, and increasing the amount of waste dam in last 3-4 years, at the end of 1394 cause to temporary closing of mine, then in 94/10/01 number of employees had decreased significantly.
Tags:
Iron ore concentrate 150,000 t
Views: 84 Added: 07-05-2019 Updated: 26-05-2019
---
Country: Iran
City: Esfahan
Zip: 8163654973
Company:
Address:
Contact person:
Phone:
Fax:
Mobile:
Please,
login
or get
registered
to contact
the Author via email or personal message!
Related to Iron ore concentrate 150,000 t