Ldpe Film Scrap 98% for sale
Ldpe Film Scrap 98% for sale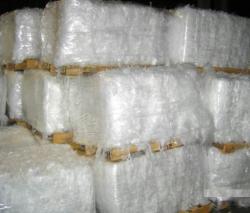 Practically transparent, surprisingly tough, Low Density Polyethylene (LDPE) is a plastic favored by many industries. From bottles, shopping bags, liners, and shrink wrapping to frozen food bags, this #4 recyclable is highly versatile. Businesses as diverse as the film industry and carpet manufacturing rely on a steady stream of LDPE plastic to make their goods. Products made from recycled LDPE include film plastic, synthetic lumber, shipping envelopes, and furniture.

LDPE Grade A: (90 - 10 film scrap)
- Specification: 98 % natural balance colored LDPE film.
- Approx 1% tolerance towards dirt / dust / labels and stickers
- 1 % moisture tolerance.

Tags:
Ldpe Film Scrap 98% for sale
Views: 101 Added: 11-05-2019 Updated: 17-05-2019
---
Country: Malaysia
City: Kuchin
Company:
Address:
Contact person:
Phone:
Fax:
Mobile:
Please,
login
or get
registered
to contact
the Author via email or personal message!
Related to Ldpe Film Scrap 98% for sale