Scrap Shear by Taiwan No.1 Brand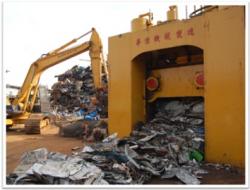 Taiwan No.1 Swing- Cut Scrap Shear
600T / 1000T / 1250T / 1500T
*Economical & Versatile Scrap Shears for a wide range of scrap types
*No need to remove cylinders for repair & Blades Clearance Adjustable
*HW1000S Capacity of Scattered Scrap Iron: Over 400T/DAY
*Ultra Cutting Strength: allows cutting iron &steel materials in any size such as iron/steel bars, barrels, frames and I-beams
*Performance: as good as guillotine scrap shear by Lindemann
*AUTOMATIC: cycling auto-cutting, only one operator required
*Strengthened Structure: Wear-Resistance Steel Plates Protection Attached
*Pre-compressing Process: Top Pressing and Side Clamping Process
*Electricity Saving (HW1000 - 115 KW/HR)
*Capable of Daily 24 hrs Operation
*Easy & Economical Maintenance
*Runs well over 20 years
*Product with Patents
*Cylinders - Professionally Processed & Qualified by SGS
*Qualified Materials for Production
*Performance Assurance - Excellent Capacity
*Product Made in Taiwan
------------------------------------
Varied Patent Designs:
1. Advanced Hidden Oil Pipes Design
2. Advanced Main Cutting Cylinders Design
3. Advanced Cutting Blade Set Design
-- Blade Sheaths Protection and Blade Holder&Stand Protection
4. Advanced Hydraulic Power System
5. Output Impeller Design
6. Roller Wheel Design for Feed Cylinder Action
7. Shear Head & Feed Tank Wear-Resistance Protection
Tags:
Scrap Shear by Taiwan No.1 Brand
Views: 3586 Added: 15-05-2012 Updated: 29-05-2013
---
Country: Taiwan, Province of China
City: New Taipei City
Zip: 24258
Company:
Address:
Contact person:
Phone:
Fax:
Mobile:
Please,
login
or get
registered
to contact
the Author via email or personal message!
Related to Scrap Shear by Taiwan No.1 Brand