Selling PU Foam Scrap
Selling PU Foam Scrap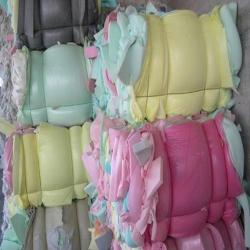 A popular plastic material, polyurethane foam is commonly used in packaging, cushioning, carpet padding, and upholstery applications

General Description : Polyurethane Trim Foam Off-Cuts.
Density Range : 13 to 40 kgs
Clean & Dry Unused Off-Cuts : 100%
Foam skins : Maximum 5%.
Re-bonded foam : none - max. 5%
Bare skins : None.
Laminated fabric/foam : None.
Laminated vinyl/PVC/foam : None.
Visco-elastic foam : None.
Foreign Matter/Contamination : Absolutely none.
Factory Sweepings : Absolutely none.
Recycled, Old or Used foam : Absolutely none.

Tags:
Selling PU Foam Scrap
Views: 101 Added: 11-05-2019 Updated: 17-05-2019
---
Country: Malaysia
City: Kuchin
Company:
Address:
Contact person:
Phone:
Fax:
Mobile:
Please,
login
or get
registered
to contact
the Author via email or personal message!
Related to Selling PU Foam Scrap