Used Rails, 10 million tons offered
Used Rails, 10 million tons offered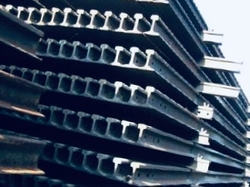 10 million METRIC TONS of R50,60,65 Used RAILS 1,200,000 MT to start/ let's talk! Ready to deal, all documentation in hand at request.!! I'd appreciate enquiries only form serios buyers. If you are a broker, welcome too! Hopefully in the search of a single buyer! We can arrange the best price in the market for this volumen.
Tags:
Used Rails, 10 million tons offered
Views: 57 Added: 18-10-2019 Updated: 18-10-2019
---
Country: Costa Rica
City: London
Zip: EC1V 2NX
Company:
Address:
Contact person:
Phone:
Fax:
Mobile:
Please,
login
or get
registered
to contact
the Author via email or personal message!
Related to Used Rails, 10 million tons offered